50 Things You Can Import and Sell Online Using Ebay, Amazon and Your Own Online Store!
Whether you want to sell on Ebay, Amazon, Etsy or anywhere else, selling goods online can be an incredibly profitable business – but what are you supposed to sell? While some people may have a million-dollar idea for a brand new product to manufacture and sell, you can make just as much selling everyday items imported from China. If you want to start importing items from overseas to sell in the UK but you aren't sure which products to import, this list is for you!
An importing business is a great business model. The profit margins are large, the start up can be simple and, if you're hard-working and determined, you can be earning the big bucks. So many people succeed with an importing business, in fact, that you may wonder why more aren't doing it.
So why aren't more people doing it?
Because people know how to set the business up; they know what platform to set the business up onto and they know how much they can earn. What they don't know?
Nobody seems to know what they should be selling.
So many people want to start an importing business, but have no clue what to import. Now, we can't start up your business for you – but we can give you some help.
If you're starting up your own online eCommerce business and need some ideas of products to sell, we have a brilliant list of 50 items you can sell. From the niche to the generic, there's a list of 50 various things you could sell online . . . but, just as importantly, there are also products that we don't recommend importing to sell and why. As well as these ideas, we have some additional posts that you may find useful if you are interested in importing and setting up your own online business:
50 Ideas For Products To Import To Sell In The UK
Homeware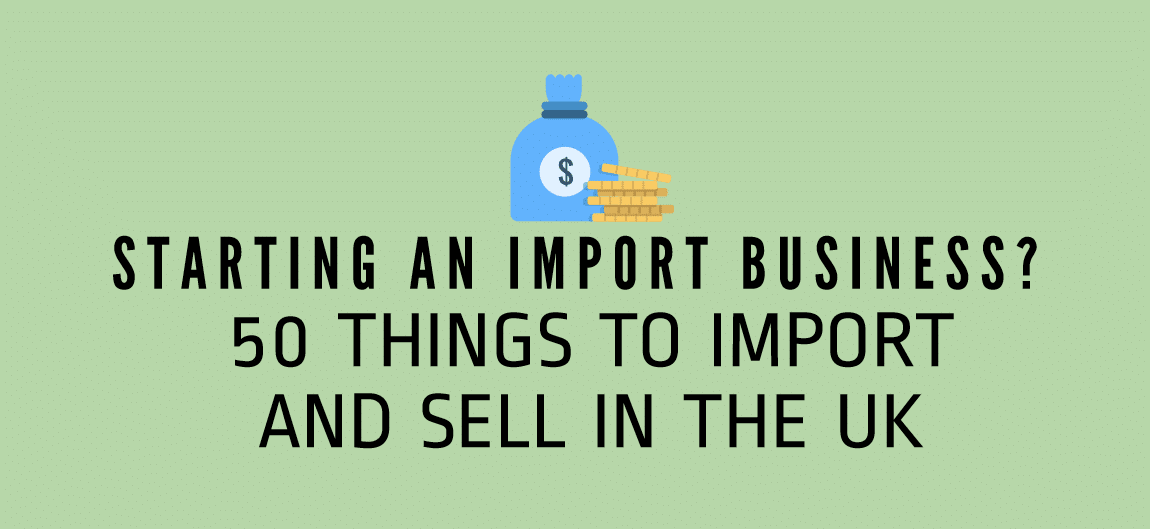 There's a lot of money to be made importing goods that are for use around the home. They'll always be in demand, they're easily marketed and there's a good profit margin. Although this is an expansive category and the possibilities are endless, we've curated a few ideas to start you off!
Cutlery & Utensils
Glasses (Pint glasses, wine glasses, shot glasses)
Mugs
Novelty cutlery. You know all those cool cups and mugs? Well, they're all imported! This novelty mug is available from Alibaba
Clocks
Cooking tools
Towels
Storage solutions; desk organisers, lunch boxes, laundry bags etc.
Mirrors
Bottles
Jewellery boxes and holders
Shelves
Rugs
Toilet Brushes
Bins
Blankets
Glass Jars
Candles
Hangers
Mattresses
Umbrellas
Hammocks
Kids' Products
The good thing about the increasing population? More parents need to buy goods for their kids! Goods for children and babies are always going to be a thriving market –
Toys.
Kids' Clothing (Onesies, pyjamas)
DIY sets
Pushchairs and Buggies
Pacifier
Baby bottle
Bouncy castles
Playground equipment
Clothing & Apparel
Although an admittedly difficult business to break into, clothing and apparel can be bought for extremely cheap prices – and sold off at a great margin.
Watches
Costume jewellery (rings, necklaces, bracelets)
Bags
Gloves
Leggings
Caps
Hats
Glasses
Sunglasses
Purses
Leisure
These items are for leisure and hobbies. Some may be more suited to a niche; if you can identify and work with the markets, however, you can strike gold. If you aren't familiar with the target audience and marketing to them would be a challenge, it would generally be a better idea to avoid these products however.
Pool Floats
Mermaid Blankets – very in right now!

Keyrings
Lighters
Hair
Phone cases
Keyboards
Violin
Tennis balls
Pens
Notebooks
Wigs
Scooters
Rollerblades
Sporting goods
Tips for finding a good product to sell:
These product ideas are merely the first step; you'll need to decide which product is going to be the best one for your business. There are many ways that you can do this, but we've shared a few of the methods that we'd recommend.
Hot Products and Bestsellers. On sites like eBay and Amazon, there are often widgets telling you what the best-selling products are – this helps you to identify what goods are selling well and whether there's a market demand for your product.
Product Specifications. There are certain product qualities that help to determine whether or not a product is a worthwhile business investment.StartUpBros summarized a few key factors perfectly in their post Step By Step Guide On How To Find A Profitable Product To Sell:
– Small and light enough to be easily picked up,
– Specific, niche products (usually)
– Selling to consumers for $10-200
– Consistent stream of buyers
– Selling for twice as much as your buy price
Items you should be careful with:
We wouldn't typically say there are items you "shouldn't" import – just items that you'll have to be extra careful when importing. Here are a few to be wary of:
'Hoverboards'. Balance boards – AKA Segways – are a dangerous product to import. UK Customs are hot on these and for good reason; imported hoverboards have been known to catch fire. If you do import them, regardless of your supplier's compliance and testing certificates, your goods will be stringently inspected by Customs. This item is high up on our "steer clear" list.
Rechargable Electronics. Electronics with lithium batteries need to be safe for Trading Standards to allow them into the country. Most manufacturers are able to develop electronic goods to a high enough standard to get into the country, pass Custom's tests and resell in the UK, however, make sure you have the test reports to prove their safety.
Drugs/Supplements. (No, not just the illegal type.) Maybe you stumble across some new organic vitamins that a Chinese supplier is selling unbelievably cheaply and you just know you could make a massive profit off. This could be OK but make sure you know EXACTLY what documents Port Health in the UK need. If your goods are being imported as Organic, they won't be allowed in until an official certificate from the country of origin, proving their organic credentials, is stamped by the UK authorities.
Alcohol.
Tobacco.
These are just a few products that, as a first time importer, we would recommend you either steer clear of or understand what's required – some of these products are just far more trouble than they're worth!